Dance Instructors
Some of Asheville's brightest and most exciting dance troupes and teachers use the dance studio at Colourfield for classes and rehearsals. From belly dance to bhangra, burlesque to bharatanatyam, evenings here are filled with music and movement and fun.
Dance Calendar Below are the current dancers facilitating classes. Click at right for le Calendar de Danse. Please visit their individual sites for detailed class information, schedules, and signups.
---
Award-winning Burlesque dancer & instructor
Founder of the Burlesque Academy of Asheville, Deb has been on both performing and producing ends of the Burlesque scene for over seven years. She has been featured on America's Got Talent, has headlined shows in New York as well as internationally in Toronto and has won awards for her signature chair routine. Deb has taught her own series of classes in Jacksonville, FL, and also taken classes from such renowned performers as Jo Weldon, Dirty Martini and Perle Noire.
About my classes at Colourfield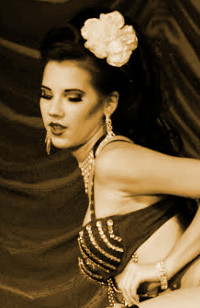 Burlesque 101
The Burlesque 101 course will start you with the basics and help you to develop your very own burlesque character and act! You will also learn a group routine with your classmates and both performances will be debuted on a real stage as part of a graduation show.
Burlesque 102
This series is for graduates of the Burlesque 101 course or new performers wanting further education. This is not an introductory class, some burlesque knowledge is necessary. Afterwards, the graduates will have the opportunity to perform for a paid show!
Burlesque Chair Dance
This class is a 4 week series that will teach everything from basic chair moves, to a full advanced choreography and how to incorporate your own striptease into the routine!
Visit the Burlesque Academy of Asheville site for full details and registration
---
Bharatanatyam Dance Instructor
Thessaly Tracy studied dance and dance theory in India for more than five years as a student and disciple of the eminent guru and performer Shobana Bhalachandra of Chennai. In 2011, Thessaly founded the Dakshinanatya School of Classical Arts to bring this graceful art to Asheville. With the enthusiastic blessings of her gurus, Thessaly hopes to instill in her students a grace, spirituality, discipline, and love for the culture that birthed this sacred art form.
About my classes at Colourfield: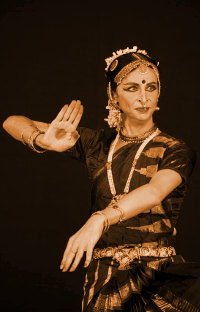 Kalekshetra-style Bharatanatyam
Bharatanatyam is a style of dance from Ancient India requiring mastery of movement and depth of emotional expression. Dakhsinanatya brings this 2000+ year old dance style to Asheville for the first time. Classes cover basic steps (adavus), rhythm and timing (thallum), mudras and hand hastas and their meaning, emotional expression (bhavum) as well as their history, theory, and spirituality (chant and slokas).
---